Minecraft Dungeons Redesign
UX, UI
I took some time off the industry but decided to take a class on UX/UI for gaming through ELVTR, a field I've long enjoyed casually. 
Redesign features of Minecraft Dungeons through a guided process spanning 7 weeks.
Gaming requires a greater level of interactivity and consistency between screens while also providing variety and eye candy. It's a different way of thinking and it even showed during user interviews with classmates where the expectations were much higher.
• Gameplay review
• Creating a user journey
• Paper prototypes from selected features
• Flowcharting screens
• Wireframing
• UI mood boards
• UI mockup
• Prototyping
Gameplay review
We reviewed ZacScottGames'
Minecraft Dungeon gameplay
and broke down his decision-making as things happened to him in-game. I wrote down each action, reaction, potential "why?" and assumptions we have as gamers, but they may be troubling for non-gamers.
User Journey
We were provided high-level features by the instructor and explored what each of these would look like, sound like and how we'd want users to react. At this moment 

Paper prototypes
With the features written down, I made quick prototypes as post-its and asked friends and classmates to navigate a potential flow by selecting actions in each screen. 
Flowcharting Screens
Next, I built a flowchart to account for all the individual screens I'd need to design. The paper prototype didn't prepare me for the intricateness of the screens I had built and the interactions between each other.
In hindsight
, I'd break the different features as different flows over trying to have one big chart with multiple connections
My focus for the redesign was to make the game more casual friendly. To me, this meant making a storytelling experience that cut back on combat elements, loot collection, and MMORPG level stats management
Wireframes Round 1
I took the first pass at wireframes based on the work above. It was a challenge thinking a lot more visually as usually, wires are just text and gray boxes. Using blue to call out actions was helpful to identify what was clickable and not which would aid during user testing.
Level Selection & Party Creation
Wireframes Round 2
We reviewed our screens with classmates for feedback. I realized through interviews that
while the core functionality for my screens was clear, the organization felt awkward and not very game-like to my peers.
They mentioned
combining screens and cutting down on copy would be better
. 
This led to the next round of wires.
Level Selection & Party Creation​​​​​​​
UI mood boards
I felt the Minecraft Dungeons was a little too different from the vanilla Minecraft. I wanted to consolidate them and took a lot of inspiration from vanilla Minecraft and mods for UI elements. 
Minecraft is full of passionate people making content and mods for the community and I felt this was a perfect way to honor them all.
UI mockup
In the end, I designed the UI for the wireframes. The only ones I didn't get to were the party screens as I still didn't feel fully confident in the experience. Something to revise for later.
Some attributions:
Images were sourced from Minecraft Dungeons or promotional material along with the logo. Weapons pixel art was supplied by online artists.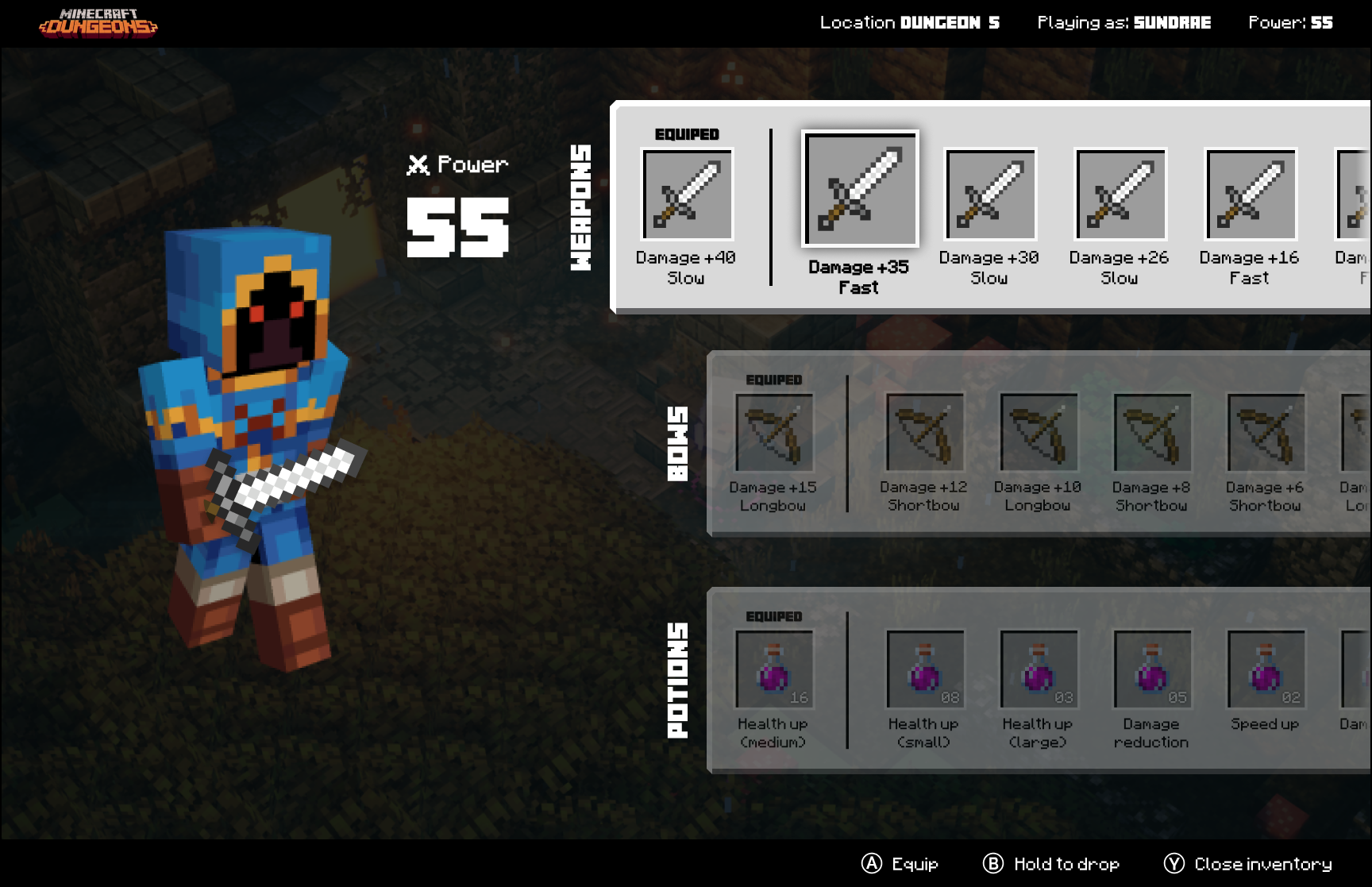 Prototype
Here's a prototype with clickable states. I added a few animations and transitions to help deliver the feel of the screens and potential interactions.