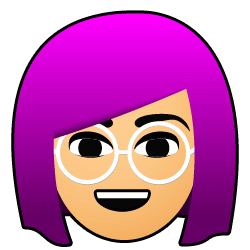 I'm not the best with animation programs. I do however have an AAS (Unofficial) in 3D animation from my time in El Salvador. That said I suck at 2D. Since my friends and I use sticker packs on Messenger to communicate, I decided it would be fun to try and make a sticker pack of my own. 
Based on my best friend. 
Who still doesn't know why her...
Here's some process and stickers! They all have different hair-colors because she changes colors often.
UPDATE – It takes money to keep up the sticker pack and get approved so here's a demo. Idk if it'll go live.